The countdown is on, you have less than two weeks until Christmas day, and are we right in thinking you haven't sorted ALL your Christmas presents? We've got a wide selection of products and prices to match everyone's preferences and budgets. Remember if any design catches your eye but you're unsure of the product, try it on a different one! We've got all sorts of present ideas, ranging from jokey quotes to unique illustrations and great pillow designs. Scroll down to find more details of the products and artists behind each piece!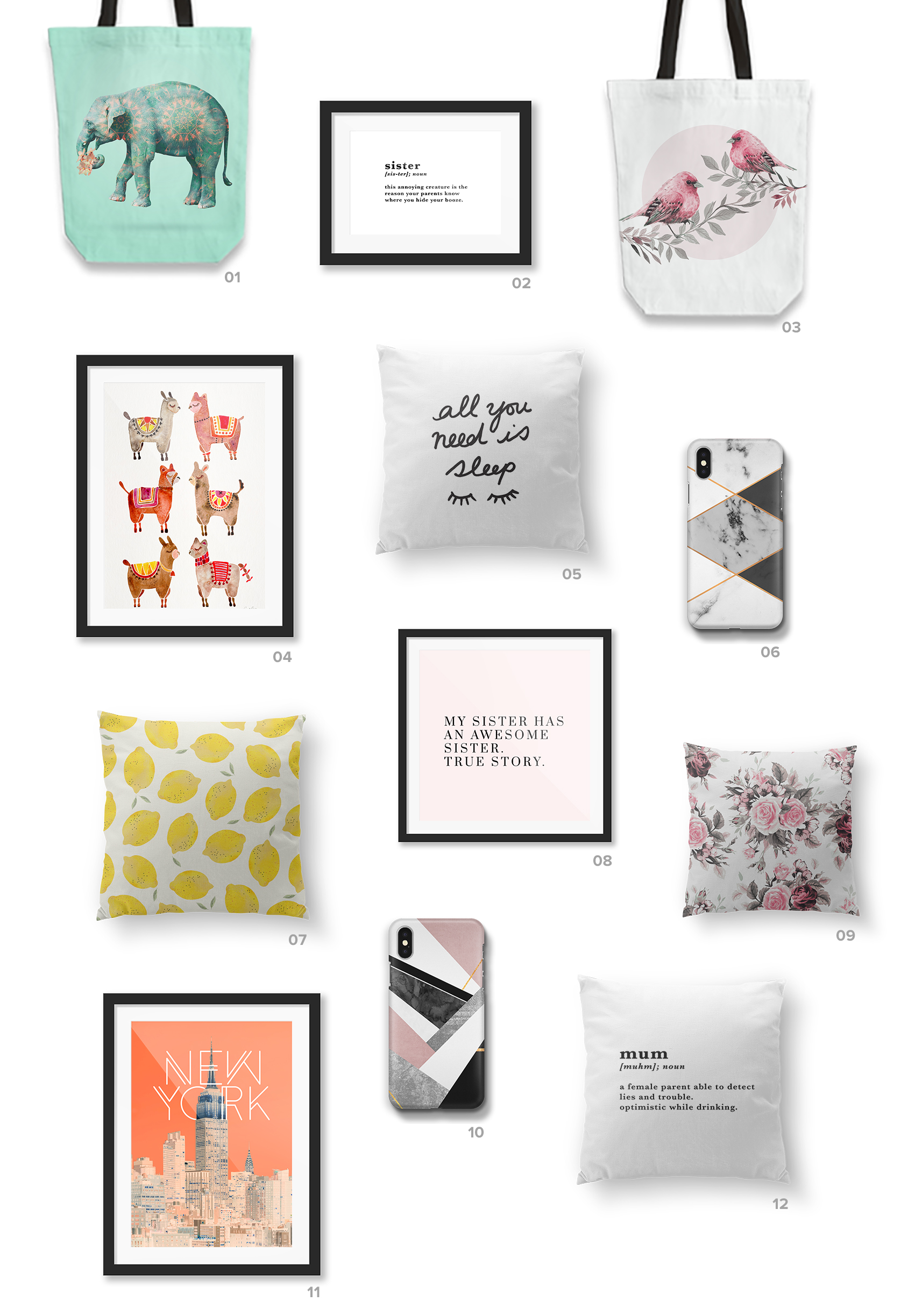 01.'Elephant in Love' Totebag £22
Dreamy Indian vibes on a resistant canvas tote bag with a super soft feel by Stefyart.
02. 'Sister' Framed Print from £15
Unconventional definition by Joy of Type, we recommend it in a small to medium size print.
03. 'Bird 2' Totebag £22
Pastel glamour by Miaart for the nature lovers out there.
04. 'Alpaca' Framed Print from £15
Adorable watercolour illustrations by Catcoq.
05. 'All you need is sleep' Pillow from £20
True story, designed by Fox and Eagle. It comes in square and rectangular shape, with the choice between feather or fiber fillings.
06. 'Geometric Marble and Copper' Phone Case from £15
Pair up marble and rose gold and you get a stylish phone case by Galeswitzer, available in matte, gloss and bumper.
07. 'Lemon' Pillow from £20
This cheery pillow case will in no doubt brighten up your day! For more fruit prints, check Kindofstyle on miPic.
08. 'My sister' Framed Print from £15
Nothing better than a back-handed compliment in a frame for your beloved sister. Work by the witty Mr Type.
09. 'Roses 2' Pillow from £20
For the hopeless romantic by Miaart.
10. 'The Big Apple' Framed Print from £15
This beautiful poster illustration is designed by India-based 83Oranges and looks best in a large framed print.
11. 'Lines and Layer 1' Phone Case from £15
Join the Scandi-trend and get yourself a slick phone case by our favourite Swedish designer Elisabeth Fredriksson.
12. 'Mum' Pillow from £20
Joy of Type's witty sense of humour never fails! Click on the profile to see more family-related definitions. 
You might also like