Wouldn't it be great if we could always live in big, airy homes? Especially in crowded cities like London where most living spaces feel micro-sized, sprucing up your design tactics to really open up a room can have you and your guests completely forgetting about the square-footage!
Wall art is a great way to use colour and design to trick the eye into perceiving more space than there actually is. With so many choices for art on the market: from framed prints to canvases and acrylic art, how you choose and place your wall art will make a big difference to how spacious the room feels.
Here are a few tips on how to use wall art to make any room look bigger than it actually is:
Light colours and contrasts
Light colours make a room look bigger and brighter, so selecting wall art with lighter touches will continue add depth to the room.
Look for art pieces with a lot of white space or with bright shades that contrast other colours in the room. The designs will create focal points around the room while the light colours enhance that feeling of space.
For instance, using different shades of light blue against a white wall (like in the photo below) will create that spacious effect!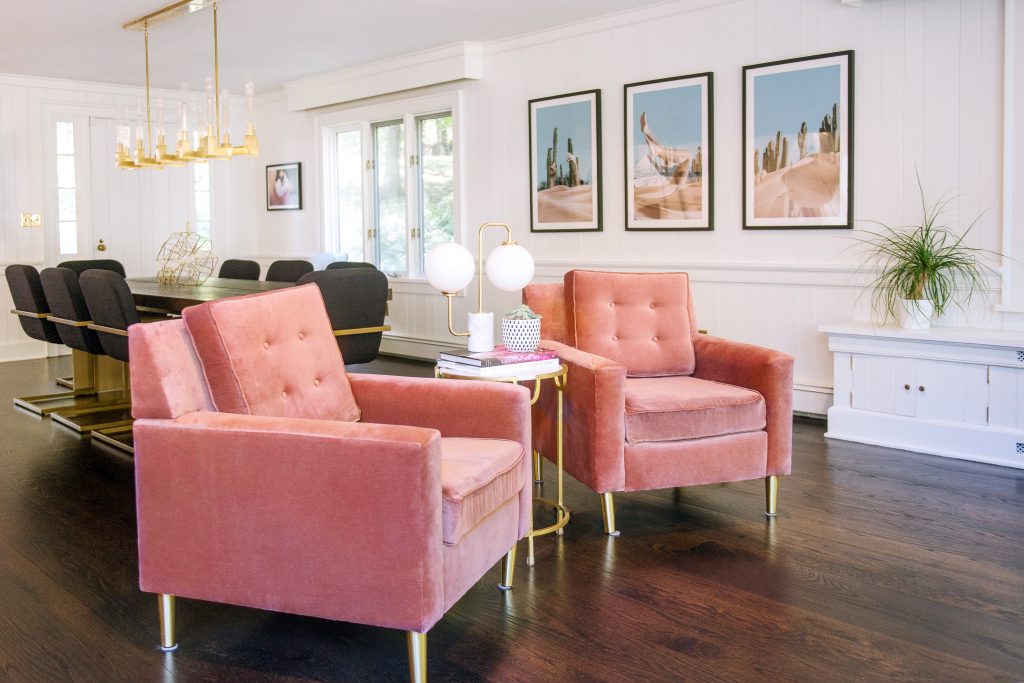 Visual Balance
You can really make a visual statement by placing art in clusters, but be aware of how you are balancing them if you are trying to make a room feel bigger.
Larger prints should be placed either on the bottom or on the top, surrounded by smaller pieces to complete the cluster look. This allows the focal point to start at the centre and fan outwards, adding depth and a sense of space to the area.
Use this as an opportunity to contrast the colours in the cluster, which enhance visual impact and unity of the design.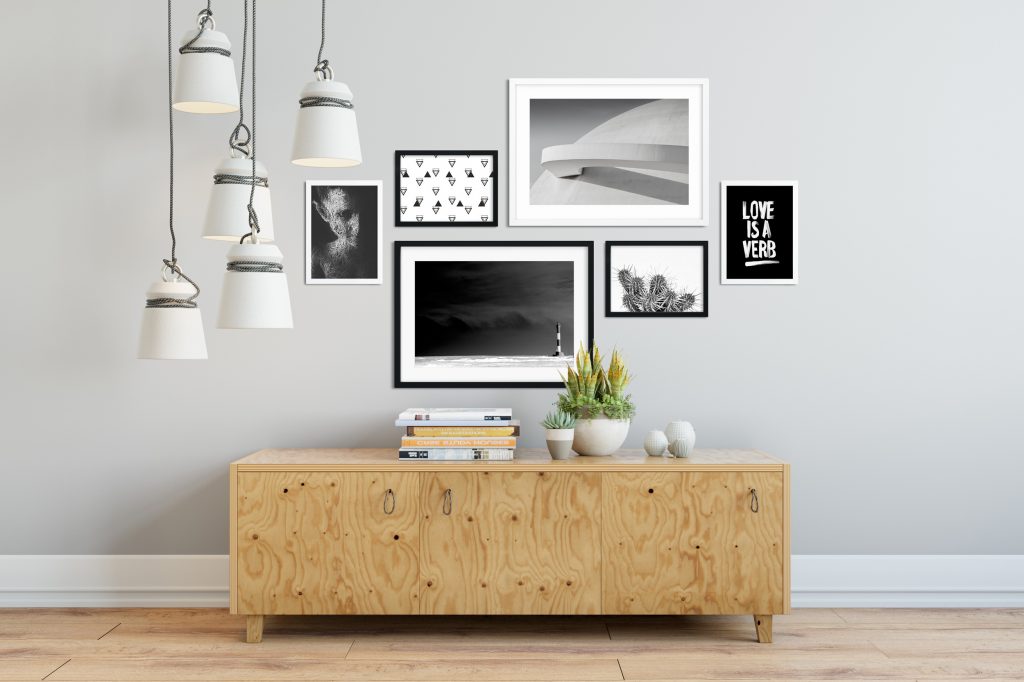 Wallpaper
Wallpapers with big patterns and colours cohesive with the ceiling will really expand the room. Especially when using bright colours that allow light to bounce, wallpaper is a great way to not only make your room feel bigger but also turn your whole wall into an art piece!
Using textural or repeat design wallpaper allows you to layer with decorative framed prints, while photography is best on its own against furniture.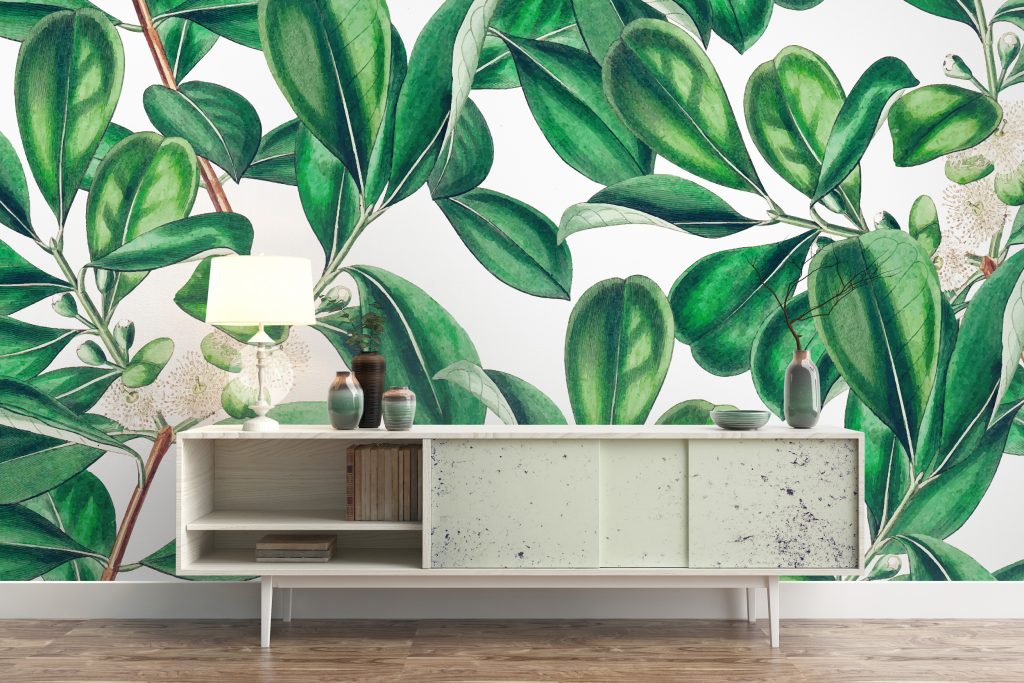 More wallpaper… on the ceiling!
You've probably heard of how painting the ceiling can make a room feel bigger, but have you ever thought of using wallpaper instead?
Drawing the eye upwards is a way to make any room feel more spacious and the ceilings higher. Selecting the right wallpaper is a more stylish decision than simply painting the ceiling, and gives you more design freedom. The secret is to use light colours and accents that compliment the art in the room.
Avoid dark colours, as dark ceilings swallow up light– making a room feel smaller!
Print Size
Just because you have a micro-room doesn't mean you need micro art! It's easy to make a small room feel crowded, which is what happens when using only small art pieces without incorporating big statement designs.
Choose larger prints to accompany smaller accents that use up your wall space more efficiently and keep the room feeling airy.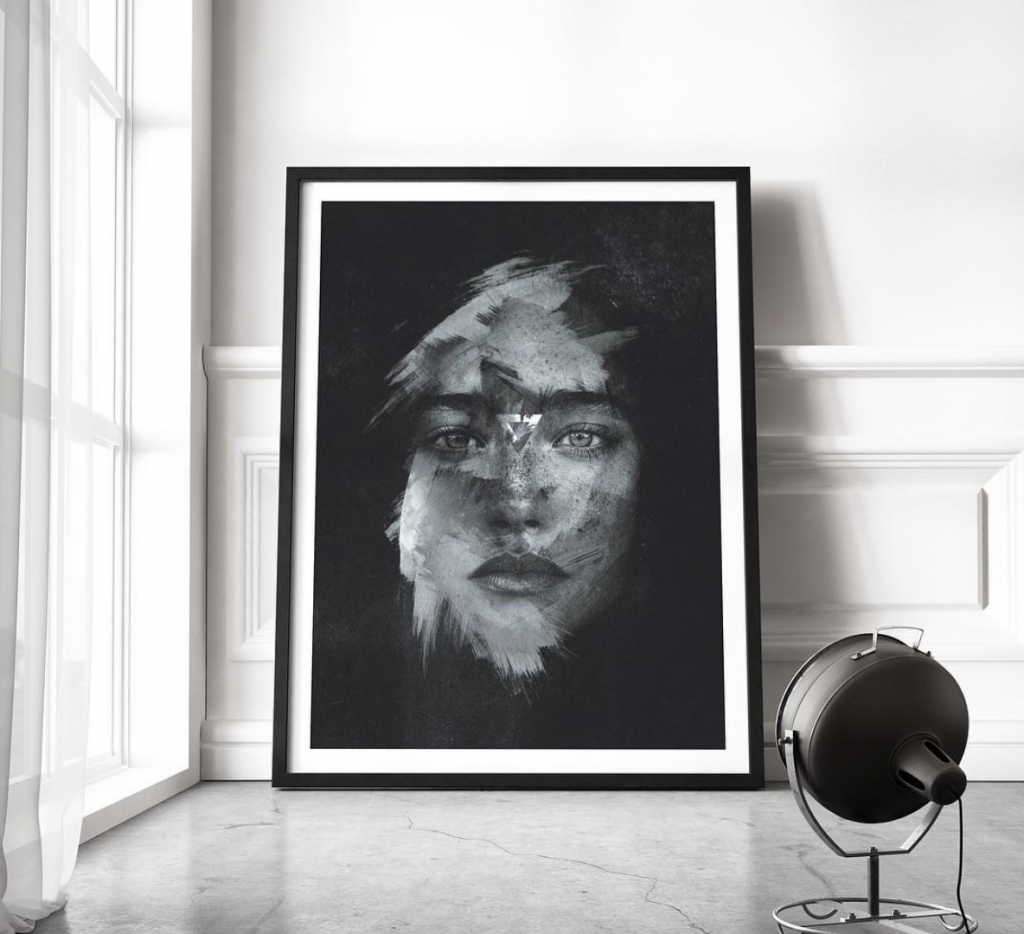 You can check out the complete collection of wall art or print your own on mipic.co
Do you have your own wall art tips to share? Let us know below!