Ladies and gentleman, please meet Francisco Fonseca. While skateboarding the streets of Porto he uses the influence of the city to fuel his creativity. Technology has changed the ability for artists like Francisco to make money as platforms like miPic open a global shop window for his artwork.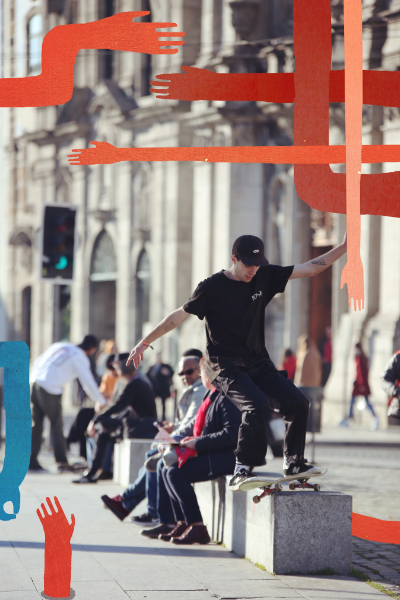 How did you find miPic?
I'm pretty familiar with print marketplaces. I saw an advert on Instagram, and thought why not give this a try.
Where are you from?
I'm from Porto, Portugal.
Who are your artistic references/influences?
I'm kinda random, and don't really use the word "expression" that much. I just try to go with a flow and see what happen when I'm working, I never know exactly what is going to come, so my "inspiration" is more on that process of finding out. Of course, I'm surrounded by things that I like and that give me positive vibes to, like skateboarding, my culture, my village, the way people interact with me.
We've noticed you've done some mural art, which has been your favourite wall to draw on and which will be your next
one?
Yes I did, and still try to do some things on the streets. I can't really choose the one I like the most, because they all make sense and work for me in a different way, so it's hard to choose the best. I remember the first big wall that I painted, and probably the biggest. It was when I was around 16, in school, and didn't really get paid very well or anything. But it was a really nice project that took around one month to complete. For the future I want to do more 'paste ups', which is what I do the most now. It's just painting in my studio with really bad paper and then just pasting on the streets like a poster.
What is your favourite medium to create your work?
I like to work with a lot of different materials  in general. I like to do the traditional paintings and drawings with watercolours or pen. But I also like to play with those watercolours in a digital way by making collages. I can't really see myself in one category, but if I have to choose one I will say that for now, I'm a lazy painter.
Where do you feel most inspired to create your work?
I have a lot of special places that I like, all are in Portugal because it's where I really connect. I really like Porto, my city, it's small but with a lot of different things to see. I learnt how to skate there, and I started my university studies there, so it has affected me in a lot of ways and made me what I am today. Another place that inspired me was my village, it's a calm place near Porto, called Paco de Sousa. I grew up there, and a learnt a lot about myself. The personality of the people is really interesting for me. I'm now making a illustrated book about my village, and about the culture and the myths around it, wait and see!
Who do you dream to collaborate with?
For now, I don't really know…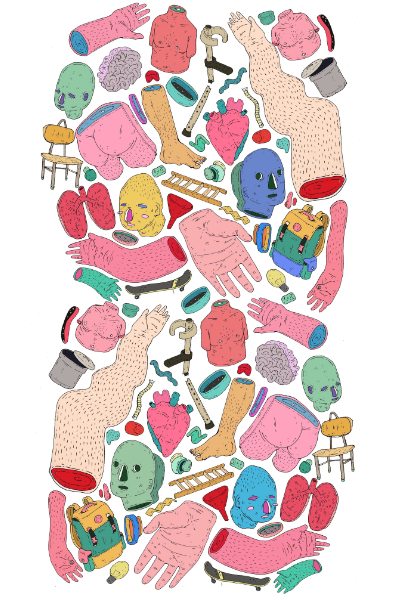 Is creating art your full time job? If not, what do you do 9 till 5?
Not for now as I study fine arts at university in Porto. I'm also doing a masters there about drawing and print making, which finishes soon.
I try to make some money doing some markets, selling online, but I can't really make a life with the money that I make. But, I hope in the future I will be able to do that.
Who else do you admire on miPic?
I still need more time to check, for now I  can't really know ahah.
Whats your favourite quote?
I made a stupid one yesterday "the distance is a question of time"
---
Shop our favourite products by Franciscomffonseca below or check out his gallery here.