This is the year we save you from the disappointment of sending a last-minute Mother's Day card. No excuses, we're allowing you plenty of time to choose the right present. We've lined up a range of colourful patterns, typography and illustrations on a variety of products for you to pick from. She might drive you up the wall at times, but deep down, you know she's the best human out there. Why not treat her to a new set of pillows, or stylish tote bag for those boring supermarket trips? Here's an inspiring list with all product details and links to purchase below. Enjoy!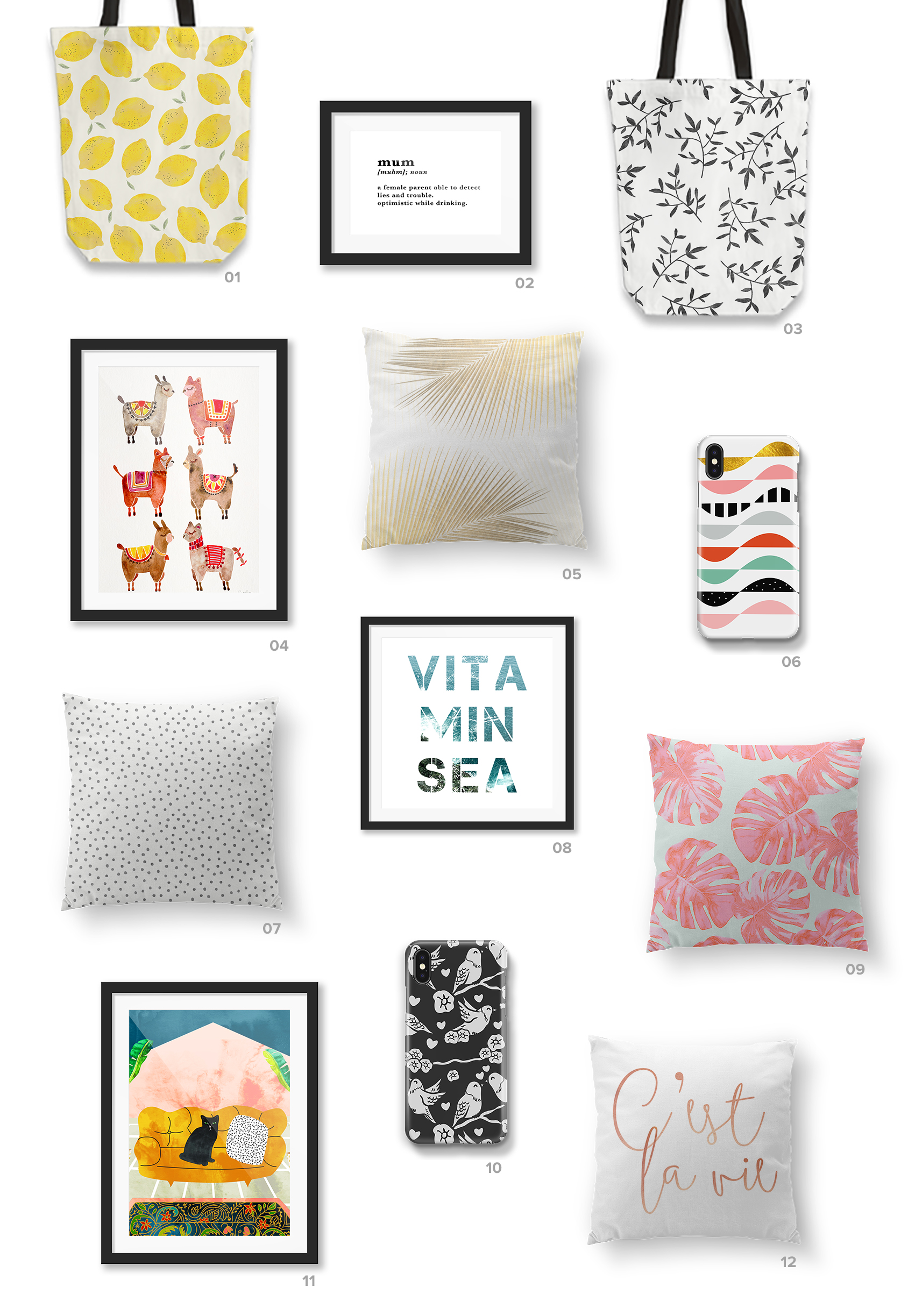 01. 'Lemon' Totebag £22
These bright lemons by Kindofstyle will put a smile on anyone. A perfect and practical gift for a trip to the market!
02. 'Mum' Framed Print from £15
Succinctly put by the Joy of Type, this relatable quote looks great in our white-frame small prints.
03.'Black Leave' Totebag £22
Our resistant canvas totebags make great multi-use shopping bags. This subtle pattern by Kindofstyle does just the job.
04. 'Alpacas' Framed Print from £15
What is not to like about alpacas? This adorable watercolour by Catcoq looks great on a framed print.

05. 'Palm Leaf Synchronicity – Gold' Pillow from £20
Get her a mini-bedroom makeover with a set of luxury palm leaf pillows by Galeswitzer.
06.'Wonders of Fall' Phone Case from £15
It's time to change that leather flip-phone case for for a clip-on case with colourful graphics by Bruxamagica.
07.'Grey Watercolor Dots' Pillow from £20
Treat her to an uplift in decor with a contemporary take on polka dots by Kindofstyle.
08. 'Vitamin Sea' Framed Print from £15
For those gloomy winter days, this fresh print by Galeswitzer makes a perfect gift for the seaside-lover.
09.'Palm' Pillow from £20
If you can't afford a trip to the tropics, this set of pillows will do! This colourful pattern by Kindofstyle works perfectly on pillows.
10.'Meow' Framed Print from £15
There's no shame in being a cat lady! If she has an obsession with cats, this illustration by 83Oranges makes a pretty suitable gift.
11.'Birds 3' Phone Case from £15
These love birds by MIAART in black and white make a cute but subtle expression of affection.
12.'C'est la vie Rose Gold' Pillow from £20
C'est chic! This subtle typography in French by 83Oranges brings an air of sophistication.
For more gift ideas, visit our gift page www.mipic.co/gifts/