Scrap the conventions of Valentine's Day. At miPic, we're giving you a breath of fresh air from the clichés and roses+chocolate gift set. We also take this as an opportunity to not only celebrate the act of giving towards our partners, but our loved ones in general. Take a look at our selected products for a cringe-free Valentine's Day.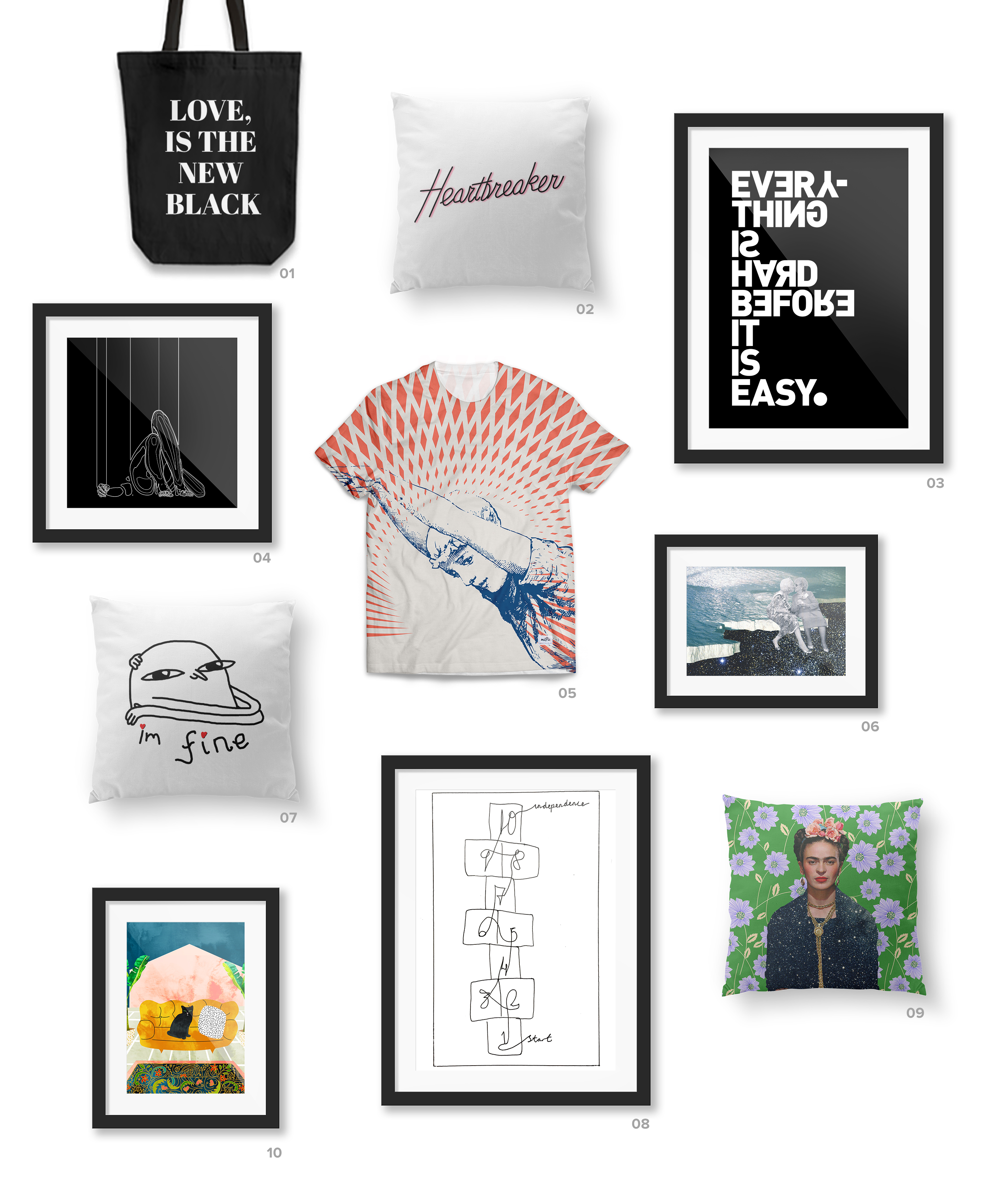 01. Love Is The New Black – Tote bag £22
Gone are the days of cheesy valentine messages. Adopt a more sophisticated look with stylish tote bag by Mr Type.
02. Heart Breaker – Pillow from £20
Was your other half a heart breaker? If so, this design by 83Oranges on a pillow makes a great gift with a touch of irony.
03. Johann Wolfgang Von Goethe – Large Framed Print £90
If you know someone who's having a hard time, these wise words by the Usual Designers are both subtle and inspirational.
04. Marionette – Medium Framed Print £45
Line art is currently all the range and Heinzaimer has mastered this to perfection.
05. Exercise One – T-shirt £26
Ditch the roses for an empowering vintage swimmer in vibrant red patterns. Heinzaimer's modern collages look work particularly well on t-shirt.
06. Untitled – Medium Framed Print £40
Celebrate Palentine's Day for a change with your best friend.  This collage by Kerry_fin does a perfect job in medium framed.
07.  I'm fine xoxo – Pillow from £20
Let's profess a bit of self-love because it's worth reminding each one of us anyway. Instagram-famous Ketnipz has a distinctitve cartoony style that works exceptionally well on a pillow.
08. Hopscotch – Medium Framed Print £40
This simple line drawing by Sophia Vrahimi evokes optimism and aspirations to live a positive and independent life. Great gift idea for anyone needing a bit of a motivational nudge.
09. Frida Kahlo Flowery I – Pillow from £20
She challenged the conventional representation of women in society through her art and courageous attitude. ArtDecor's take on Frida Kahlo makes a great present to inspire future of generations to do just the same.
10. Meow – Small Frame £25
Picture someone as a cat lady? This print by 83Oranges makes the perfect gift.
If our selection hasn't quite done it for you, head to the gift page at www.mipic.co/gifts/ for more Valentine ideas.