Running dry on ideas for your loved one this Valentine's season? If the unconventional products weren't really to your taste, we've lined up a range of products in a more traditional style. We've tried not too over-do it on the sickly love messages although a bit of romance can't do too much harm. Scroll down for more product information and direct links to purchase. Enjoy!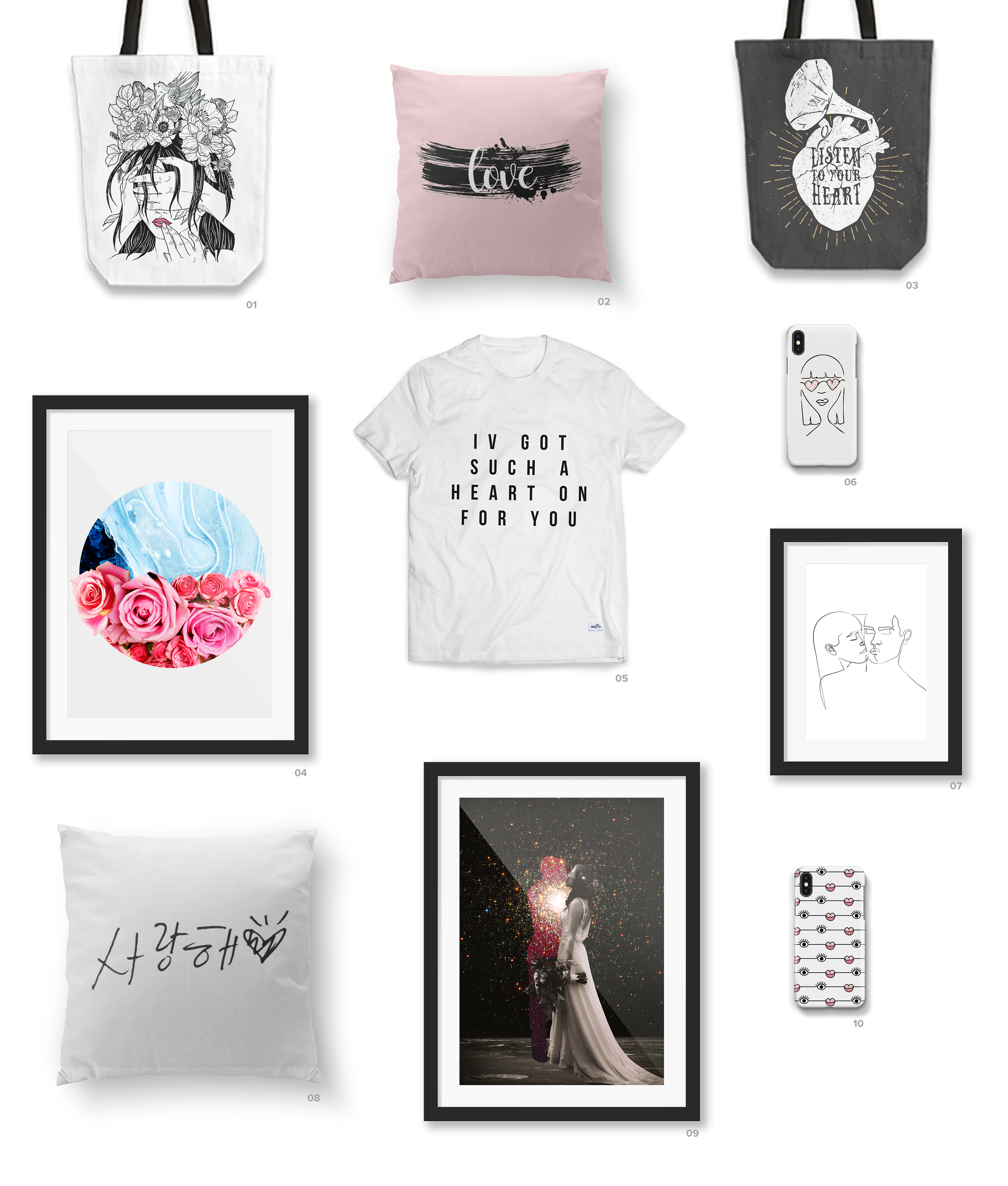 01. 'Naive' Tote bag £26
Surprise your Valentine with an intricate fine line illustration on a tote bag by BeeNest. Find more gorgeous illustrations on her profile here.
02. 'Love' Pillow £20
You can't go wrong with a simple statement like this one by Action Zebra.
03. 'Listen to Your Heart Inspirational Quote' Tote bag £26
If not now, when? This design by Deardear  is a particularly relevant motto around this time of the year.
04. 'Unexpected Blossom' Medium Framed Print £40
Swap the perishable 'bouquet' for a long-lasting expression of your affection in a stylish collage. This print by 83Oranges is just what you need.
05. 'IV got such a heart for you' T-shirt £26
We have on puntastic t-shirt here for anyone with a good sense of humour, by The Designship.
06. '1' Phone Case from £15
Here's a subtle illustration for those who are seeing life through rose-tinted glasses, by CK Locker.
07. 'LOVERS I' Small Framed Print £25
Clean and continuous line drawing is the current trend. This illustration by Lucia Mercedes is romantic without overly exaggerating.
08. 'Saranghae' Large Pillow £25
This Korean message says 'Love you' in a subtle and classic aesthetic, designed by Joch.
09. 'I Am His and He Is Mine' Medium Framed Print £40
Janjap2 has managed to quite literally capture the spark of a couple in love with a magical touch of surrealism.
10. 'Funky Graphic Lips and Eyes Pattern Black White Pink' Phone Case from £15
These light-hearted graphics by 5mmpaper add a bit of fun to the usual Valentine clichés. We definitely recommend it on a phone case!
Didn't find what you were looking for? Have a browse at our gift page https://www.mipic.co/gifts/  for more ideas!