Ahead of next week's Pitch to Rich final we've sat down with the three finalists in the Innovation Award category, getting their thoughts on the state of innovation and how they're shaping up for the pitch of their lives. First up it's Carl Thomas and miPic…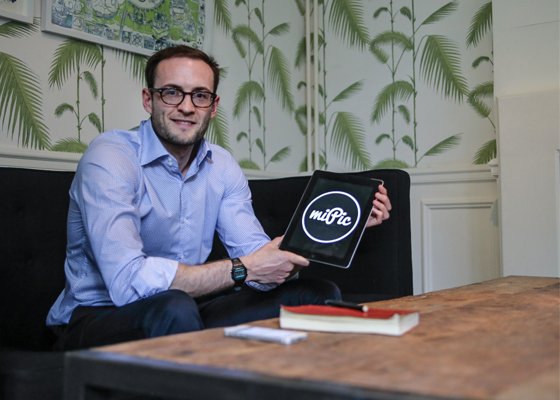 Hello Carl. How are you innovating and why is it important to your business?
I have always had the mentality to push my own boundaries, whether it be learning a new skill or attempting something unimaginable like setting up alone in business. My fear of regret and complacency is what motivates me to innovate and move forward.
When I had the idea for miPic over three years ago, I was working as an Architect in London and saw the way in which mobile was transforming our photos, lives and social status. I saw potential in fantastic mobile imagery and Instagram followers and wondered how 100 likes could be turned into £100 as a desirable tangible product.
Having previously ran my own small art business whilst at university, the desire to recreate this in London as a hobby evolved into something more. I believe we have innovated by creating a new market within a currently booming mobile industry, merging art and social media via a platform for everyone to earn money from their mobile images and sell art to a global audience. But we don't want to stop there, as trends change we want to diversify into other areas too. Hopefully Pitch2Rich gives us the opportunity to do so this year.
Do you feel enough companies are innovating and has innovation become too risky?
There is enough competition within the tech industry for innovation to continue for many a year to come. So long as there is always someone willing to test and strive for better, the rest will always follow and try to emulate.
Innovation has always been a risk; the cost of creativity and ambition is infinite. But without big ideas and persistence to realise them, we would not live in a world we do today, taking tech for granted as we do. Smart phones, tablets, electric driverless cars, super sustainable architecture and even flights to space now, innovation will continue to be at the forefront of our thinking.
What barriers have you come up against when trying to innovate? 
Throughout my experience in architecture, imagination is only as good as the tools and construction methods allow us to be. I made a conscious effort over the last ten years to focus and learn as much about software and innovation in order to help me to be creative in design, which I maintain today with miPic.
The miPic project has encountered many barriers along an almost three year process of uncertainty, however a relentless belief, few strokes of luck, me in a Nokia commercial and the willingness of a small talented team to deliver on a tiny budget makes me very proud.
My sabbatical from architecture began in November and my decision not to choose three months of travel and instead launch the miPic service in January seems fully justifiable now, following miPic's interest so far, being in the final of this competition and meeting the ultimate entrepreneur.
Which innovator would you say is your role model?
Without sounding too cliche and cheesy, it would be Richard for entrepreneurial inspiration. His achievements over the years in multiple industries epitomises the idea of dreaming big and delivering seemingly unachievable challenges. I feel similarities of that working on the miPic project. I randomly met Richard on a family holiday when I was five in Ciutadella, Menorca, possibly my earliest childhood holiday memory and meeting someone famous. I recall my mum say "now there's a familiar face" and exchange a hello in the harbour as me and my sister stared on.
I also had the privilege of indirectly working on the Virgin Galactic project in 2005, as our university in Liverpool was one of few architecture schools around the world invited to participate in the same brief that the design team at Fosters were given. It was probably one of the most fun projects I was involved, which challenged how daring our imaginations could be to design the spaceport as once in a lifetime experience for the few privileged to enjoy a ride to space. Hopefully one day I can be on SpaceshipTwo to experience it.
Ahead of the big day, what's your top pitching tip?
I'm quite new to business pitching. I've presented projects and designs in the workplace to various numbers of people before and dealt with customers face to face when I ran my own art shop back in Liverpool, but I wouldn't say I was a thoroughbred salesman. I'd say know all of the boring stuff of your business inside out, then make sure you enthral your audience with a story to gain their interest. But in the main, smile, show confidence, belief and hopefully your personality can comes across.
What would you spend the money on if you were to receive an investment?
If we were to win Pitch to Rich, firstly, it would be a massive achievement to be recognised by the judging panel and the exposure that the competition has brought us so far is just as valuable. The £5k investment would be hugely beneficial following our soft launch in January. We have the app, website and manufacturing process, live and working, so the primary issue is marketing and new products.
Good luck, Carl!
You might also like